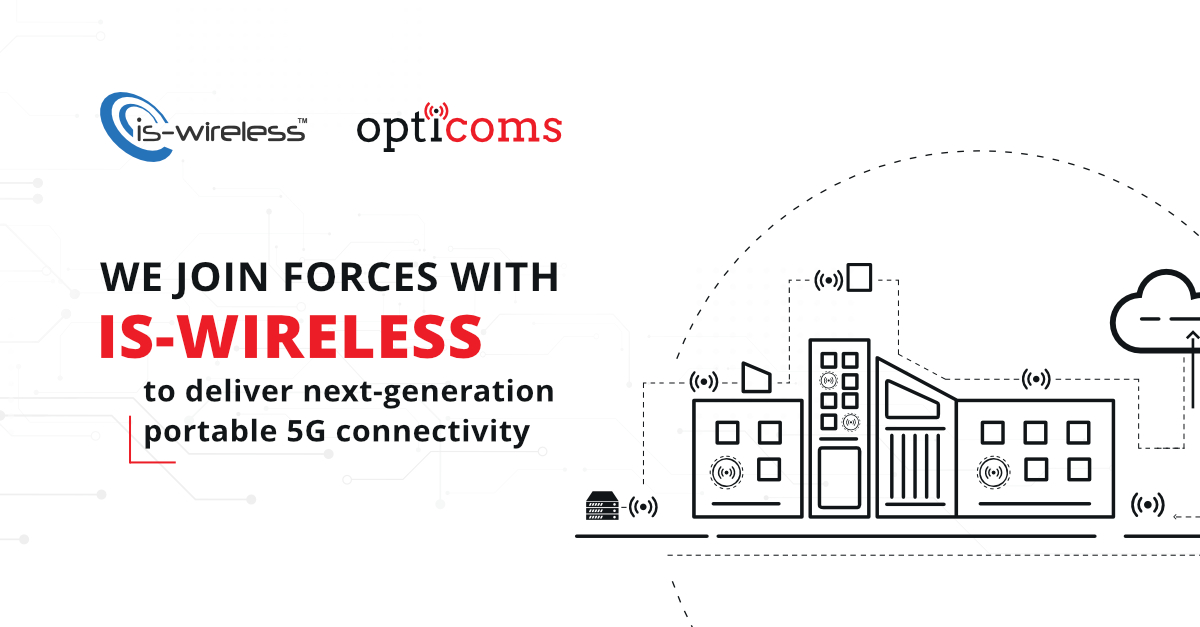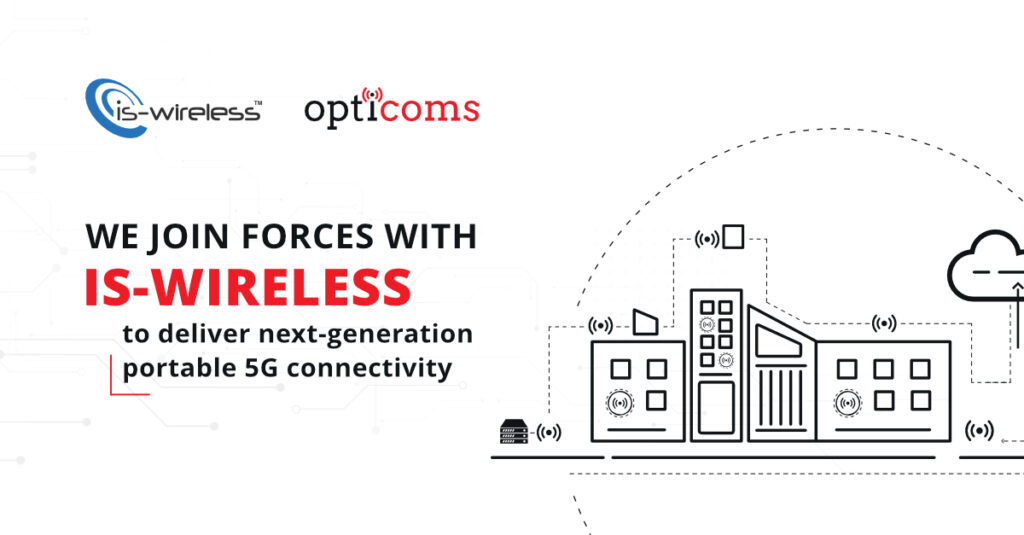 Munich – 05.07.2022 – Optik and IS-Wireless engage in a joint effort to deliver a lightweight, plug & play 5G solutionThe cooperation will allow users across the EU to utilise next-generation connectivity for various fields, including smart farming, logistics, manufacturing, construction, mission-critical and more. Companies will co-develop a 5G product to answer the needs of the modern, digitally transforming European market.
Opticoms, system integrator experienced in telecommunications industry based in Germany and IS-Wireless, a provider of Open RAN 5G solutions have established a cooperation aiming to develop an end-to-end, light weight, plug & play 5G product stemming from their joint expertise to address the growing market demand for portable, secure and reliable 5G connectivity. Together, they wish to provide digitally transforming industries, including logistics, manufacturing, construction and authorities dealing with mission-critical scenarios and using RC devices across Europe with reliable end-to-end 5G networks deployable in the field.
Combining experiences
Opticoms brings their vast experience in connectivity, device integration, usecase Integration and life cycle management as well as proven unique tools available in the Munich 5G co-creation lab to the table – We see that connectivity on every location is the clear demand of the customers. Instead of deploying the connectivity to the customer premise, we are developing a solution together with IS-Wireless, where we will give the connectivity to the hands of our customers. This will enable the new world of use cases with the flexible and DIY like connectivity managed by the end-user – says Johann Sebastian Schmid, Co-founder and CEO of Opticoms.
Meanwhile IS-Wireless, one of the few European complete Open RAN software providers, enjoys experience in developing field-ready mission critical portable solutions adjustable to individual customer demand. – The strength of Open RAN allows us to join our forces with our new partners at Opticoms and create a brand new product to boost the 5G adoption in Europe according to the expectations and needs of virtually any industry. We believe that networks of tomorrow are best built together and our upcoming product will be an example of just that – states S?awomir Pietrzyk, CEO and Founder of IS-Wireless.
Many possibilities of a single solution
The co-developed end-to-end solution by neighbouring companies will be suitable to provide fifth generation mobile connectivity to various industries. It will be built in accordance with Open RAN principles in order to make it more accessible, affordable and secure. Companies are looking to respond to the needs of customers across Europe to answer their connectivity needs.
About Opticoms
Opticoms GmbH, located in Munich, Germany with strong experience in Telecommunications and IT delivers the connectivity solutions to enterprises enabling the transformation journey. As one of the first local spectrum license owners in Germany and with strong ecosystem partners in networking, device, process analytics and AI, Opticoms can deliver an end to end running solutions. Keeping E2E processes and ROI always in the center, they are providing process analysis and automation, network design and deployment and system integration services using advanced wireless technologies like 5G.
For more information, please visit www.opticoms.de or stay up to date with everything about private networks by following on LinkedIn.
About IS-Wireless
IS-Wireless develops and delivers 4G and 5G mobile networks supporting more users with better performance at lower cost by applying cutting edge technologies. The company is a provider of software and hardware necessary for building 4G and 5G networks in the scope of both RAN and Core. IS-Wireless participates in the Open RAN revolution and expects significant changes in the way networks are built and deployed in the coming years. The company has been recognized as one of a few European RAN vendors by leading telco operators including Deutsche Telekom, Orange, Telecom Italia (TIM), Telefónica and Vodafone in their November 2021 report ?BUILDING AN OPEN RAN ECOSYSTEM FOR EUROPE?. www.is-wireless.com